Publications
SAGE Studies in International Sociology
Publications
SAGE Studies in International Sociology
Sage Studies in International Sociology Books is part of ISA's well-established SSIS series, started in 1974. It encourages debates of international significance and charts out future trends of sociological importance.
SSIS books identify new areas of scholarship organising the discipline internationally and having global consequences. They include three kinds of publications:
Proceedings of ISA World Congresses, ISA Forums, meetings of the Research Committees and of the National Association Liaison Committee
Key Texts of World Sociology (KTWS)
Challenges of Sociology (CoS)
KTWS acknowledges and promotes (in English translation) important sociological texts written in other languages, by scholars in various parts of the world since the inception of the discipline in those regions.
CoS is an initiative that wants to promote, identify and discuss both new theoretical trends and old unconquered utopias. This could be proposed from individual ISA members in good standing.
SSIS Books can be singly or jointly authored and/or edited and reflect emerging scientific debates currently taking place on these themes in the discipline. Books should not exceed 125,000 words, including all the contents. SSIS Books adheres to the SAGE Harvard reference style. For guidance on the preparation of illustrations, pictures and graphs in electronic format, please read SAGE Guidelines for Authors and Editors.

An Editorial Board of internationally recognised eminent sociologists reviews the initial proposal, which should include a statement of interest, the intended market for the book, any competitor volumes and its sales potential. Authors and editors are encouraged to institute their own peer review processes to ensure high quality of product. The final manuscript will be peer reviewed in consultation with SAGE.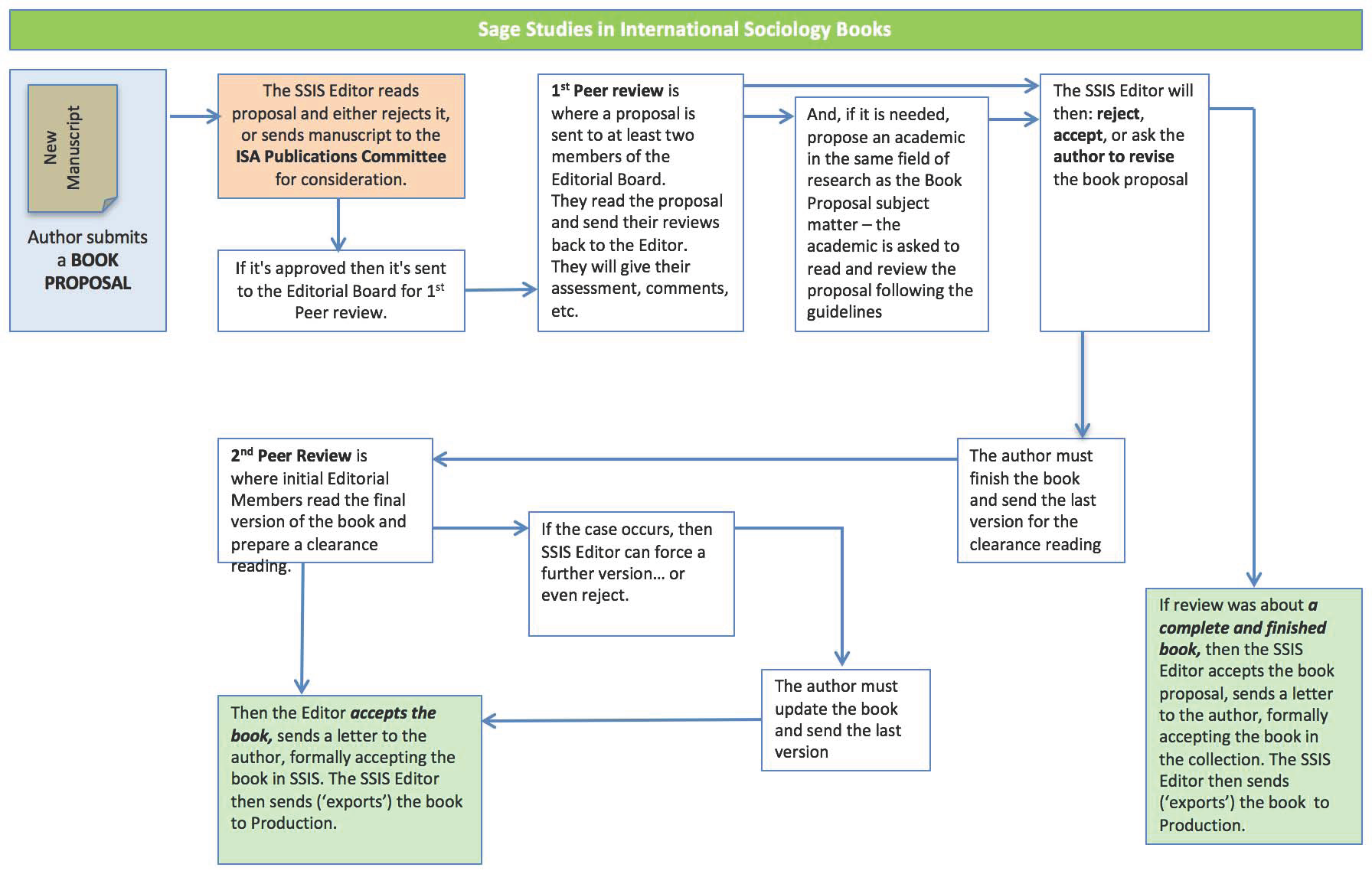 Proposals should be submitted to:
Chaime Marcuello Servós, Editor
Departamento de Psicología y Sociología
Facultad de Ciencias Sociales y del Trabajo
Universidad de Zaragoza
Violante de Hungría, 23
50009 Zaragoza
España
Phone: +34-976-762937
Email: SSISbooks@gmail.com
Assistant Editor: Dr. Daniel Jiménez-Franco
Editorial Board
Charles Crothers, Auckland University of Technology, Auckland, New Zealand
Kathya Araujo, Universidad Academia de Humanismo Cristiano, Santiago de Chile, Chile
Pepka Boyadjieva, Institute of Sociology, Sofia, Bulgaria
Valentine Moghaddam, North-Eastern University, Boston, USA
Yeoh Seng Guan, The School of Arts and Social Sciences, Monash University, Malaysia
SAGE Publications
ISA members can avail new titles (from August 2013 onwards) for pounds 9.99.
To claim the discount for new titles order via the SAGE website, ISA members should order the books and enter the code UK09OB001 at the checkout. This discount is valid until December 31, 2018.
Customers in India can buy a copy for Rs750. Contact marketing@sagepub.in to place an order.