Junior Sociologists
ISA Worldwide Competition for Junior Sociologists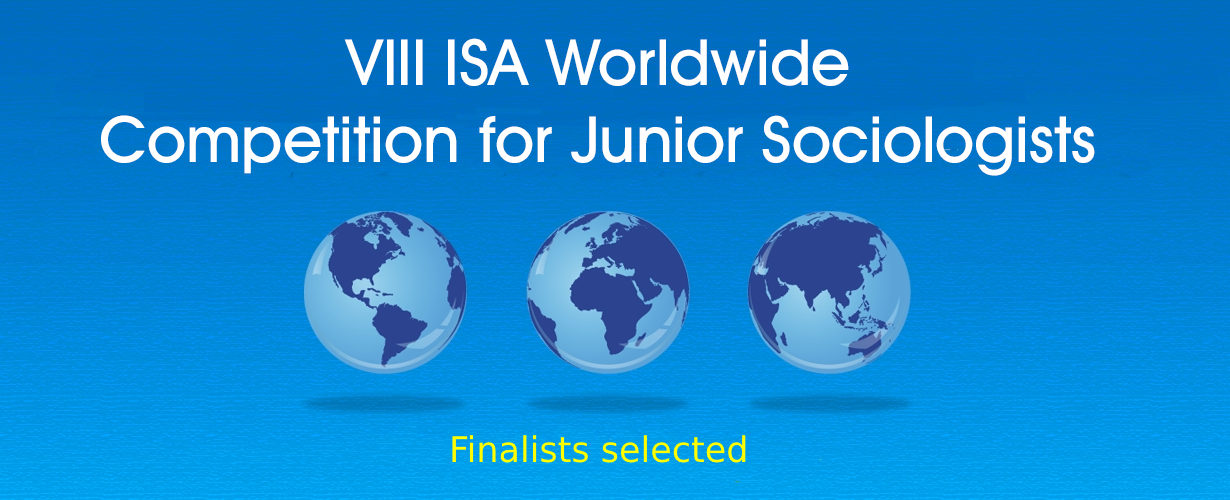 The International Sociological Association is pleased to announce a list of the finalists of the VIII Worldwide Competition for Junior Sociologists engaged in social research.
The Grand Jury chaired by the ISA President Sari Hanafi will select up to five winning papers in December 2021.
The list of 15 finalists (in alphabetical order)
Adrienne Lee ATTERBERRY, Maxwell School of Citizenship and Public Affairs at Syracuse University, USA
Intensive Teaching: Teaching within a Neoliberal Context

Mr. John Rey CODILLA, Davao Oriental State College of Science and Technology, Philippines
Violent Incidents and School Safety: Avatar of Basic Education in the Era of FIRe

Ms. Nedha DE SILVA, Monash University, Australia
Post-conflict Neoliberal Microfinance Debt Crisis: The Tragedy of the Sri Lankan Rural Women

Ms. Anna FEDOROVA, S.I. Vavilov Institute for the History of Science and Technology of the
RAS, St. Petersburg, Russia
Actualization of Russian Ethnic Nationalism in Social Networks: the Experience of Non-reactive Research

Mr. Alan FREITAS, Universidad Federal de Juiz de Fora, Brazil
Well-Being and Social Stratification Process in Brazil

Ms. Veronica GREGORIO, National University of Singapore, Singapore
Farmers as Parents: Dissecting Parenting Strategies of Smallholders

Ms. Jiyoung KIM, Paris Nanterre University, France
Gentrifying Otherness: Diversity and Whiteness in the Restaurants in the Canal Saint-Martin Neighbourhood in Paris

Ms. Alice KROZER and Mr. Diego CASTAÑEDA, El Colegio de México, México
Life on the Edge: Elites, Wealth, and Inequality in Sonora 1871-1910

Ms. Larisa LARA GUERRERO, Université de Liège, Belgique
Subjetivación política de migrantes mexicanos en Bélgica y Francia: procesos de reflexión, experiencia y emancipación

Mr. Julien LARREGUE, University of Copenhagen, Denmark
La réforme des moeurs scientifiques. Une analyse sociologique de la fraude en psychologie sociale

Mr. Maximiliano MARENTES, Universidad Nacional de San Martín, Argentina
Ni iguales ni desiguales. Principios de igualación y desigualación en relaciones amorosas de varones argentinos

Mr. Romulo NIEVA, University of Otago, New Zealand
Contextualising the Nexus between Incarceration and Reproductive Wellbeing: The case of Filipino Women in Prison

Ms. Alice SCAVARDA, University of Turin, Italy
Can You See the Person, Beyond the Syndrome? Strategies of Resistance to Stigma of Parents with Disabled Children

Mr. Arno VAN HOOTEGEM, Catholic University Leuven, Belgium
Worlds of Distributive Justice Preferences. Individual- and Country-level Profiles of Support for Equality, Equity and Need

Mr. Tiago VIEIRA, Universitat Autonoma de Barcelona, Spain
Platform Couriers' Self-exploitation: the Case of Glovo

The finalists will receive Merit Award Certificates, a four-year membership in the ISA, and a paid registration to the XX World Congress of Sociology in Melbourne, Australia, June 25 – July 1, 2023. All authors thus preselected will also be invited to participate in a five-day seminar prior to the Congress. The ISA, however, cannot guarantee to cover costs for their travel and accommodations.
Committee of the Eight ISA Worldwide Competition for Junior Sociologists:
Professor Bandana Purkayastha, University of Connecticut, USA
Professor Laura Oso Casas, University of Coruña, Spain
Professor Ayse Saktanber, Middle East Technical University, Ankara, Turkey, Coordinator