ABOUT ISA
ABOUT ISA
ISA Newsletters 1971-2001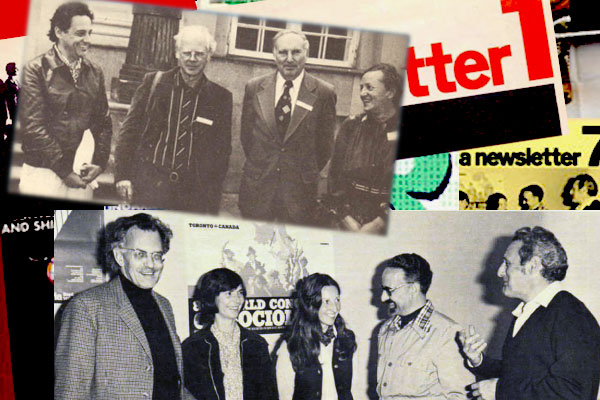 ?
The ISA newsletters shown here ran from 1971 to 2001. They are fun to browse as well as providing a lot of historical information, about the growth of worldwide sociology as well as ISA activities. Reports on meetings show what issues concerned members then, and one can follow through the trajectory of the careers of some now-prominent colleagues; one can also see quite a few pictures of senior members of the discipline, whether taking part in committee meetings or relaxing informally.
There is some random variation over time in the topics covered, as members did or did not volunteer items, or meet deadlines set by the office, but the tables below show in which issues to look if you want to learn about some of the recurring activities reported.
Some of the World Congress programmes are given in fine detail, down to the names of speakers in non-plenary sessions and the titles of their papers, while others have not put so much in the newsletter; even just the named topics of sessions convey a sense of the period.
Of the history of Research Committees, most of the listed items come from a period when a deliberate attempt was made to get each RC to provide an account of its history, and they did this with varying levels of detail; where officers had changed, of course, the institutional memory and written records could be limited. Since then the history has not been pursued systematically, but regular RC reports appear.
For the obituaries, a very brief note of the roles played and contributions made by those remembered is given with each.
Jennifer Platt, ISA Vice-President Publications (2010-2014)
For all the former ISA Presidents a full biographical note, and information on other useful sources, can be found elsewhere in this website.
ISA Former Presidents
World Congress Programmes

Issue
Congress
5
Toronto - 1974
16
Uppsala - 1978
28
Mexico City - 1982
41
New Delhi - 1986
52
Madrid - 1990
64
Bielefeld - 1994
75-76
Montréal - 1998
83-84
Brisbane - 2002
History of Research Committees

Issue
24
General history of RCs, by Magdalena Sokolowska.
27
Political; Sociotechnics; Education.
29
Science; Social Ecology; Migration; Alienation Theory and Research; Futures Research; Social Practice and Social Change.
30
Ethnic, Race and Minority Relations; History of Sociology; Participation, Workers' Control and Self-Management; Aging.
31
Social Stratification and Social Mobility; Sociology of the Arts.
32
Armed Forces and Conflict Resolution; Community Research; Leisure.
33
Economy and Society; Medicine; Deviance and Social Control; Conceptual and Theoretical Analysis.
83-84
Alienation Theory and Research.
Obituaries

Issue
30
Abrams, Philip – active in British Sociological Association and ISA, editor of journalSociology.
73-74
Andorka, Rudolf - One of the pioneers of the RC on Stratification, collecting important data on Hungary, and an ISA EC member.
38
Angell, Robert – Directed UNESCO Social Science Dept. when ISA was founded; President of the American Sociological Association and then of ISA.
83-84
Boden, Deirdre – prominent as ethnomethodologist and conversation analyst; Co-President of the RC on Sociolinguistics.
58-59
Bottomore, Tom - President of ISA, and of the British Sociological Association; Marxist theorist and translator.
43
Cherns, Albert – founding member of the RC on Sociotechnics, and played an important governmental role in relation to British social science.
65-66
Dofny, Jacques – Belgian, but started his sociological career in France. Had to leave for political reasons and moved to Quebec; committed to the international working-class movement. ISA Vice-President for Publications.
16
Friedmann, Georges - President of ISA; important in the development of industrial sociology, led Centre d'Études Sociologiques – and FLACSO.
24
Germani, Gino – Italian anti-fascist who escaped Italy for Argentina, where he became prominent in promotion of empirical research; ISA Vice-President.
80
Guzmán, Torcuato Perez de – Spanish, with a first degree in Law, active in international research; board member, RC on Sociocybernetics.
32
Heintz, Peter – Swiss; served UNESCO in Latin America and was involved in the foundation of several sociological bodies there; after coup in Argentina returned to Zurich professorship.
39, 40
Hill, Reuben - President of the American Sociological Association, and then of the ISA; a specialist on the family, playing a founding role in RC on Family.
11
den Hollander, Arie – One of ISA's earliest activists; Netherlands representative on the Council, Organiser of third World Congress, Vice-President 1956-9.
77
King, Elizabeth - of German origin, but with a British degree in sociology; played an important role as Associate Editor of International Sociology from its foundation.
78-79
Luhmann, Niklas –influential German theorist of social systems, working in law and public administration before turning to sociology.
51
Nowak, Stefan – Founding member of RC on Logic and Methodology, President of the Polish Sociological Association, ISA EC member.
28
Oshavkov, Zhivko – Founding member, President and General Secretary of the Bulgarian Sociological Society; local organiser of ISA 7th World Congress; ISA Vice-President.
77
Podgórecki, Adam - born and educated in Poland; expelled for 'anti-state academic activity', he moved to Carleton University in Canada, and wrote many books in English; was at the foundation of the RCs on Law and Sociotechnics; EC member.
50
Sokolowska, Magdalena – leading early figure in medical sociology in Poland, and active in the RC on Sociology of Medicine; first woman Vice-President (for RCs).
65-66
Stolte-Heiskanen, Veronica – born Hungarian; her family had to flee and ended up in the US; married a Finn and moved to Finland; main interests, family and position of women, science studies. Chair, Finnish national association; ISA EC member.
32
Szalai, Alexander – prominent ISA EC member, President of the Hungarian Sociological Association; known for work on time budgets and quality of life.