ABOUT ISA
ISA Past Presidents
Reuben Hill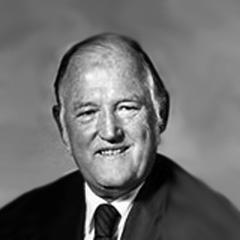 President 1970-74
1912 | 1985
Nationality American
His archives are available at the University of Minnesota.
Biography
Education
1935 BS [Sociology major, Mathematics minor], Utah State University.
1936 M Phil., Social Psychology, University of Wisconsin.
1938 PhD [Sociology major, Economic statistics and labour economics minor], University of Wisconsin.
Posts held:
1930-33 'Church representative' [Mormon missionary] in France, Belgium, Switzerland and Germany.
1936-37 Research assistant in sociology, University of Wisconsin.
1938-41 Instructor in social education and assistant director, Wisconsin Union, University of Wisconsin.
1941-43 Assistant professor of social education, lecturer in sociology and assistant director, Wisconsin Union, University of Wisconsin.
1942-45 Professor of sociology and head, Dept of Sociology and Social Work, University of South Dakota.
1945-49 Associate professor of sociology, Iowa State University.
1949-57 Professor of sociology, University of North Carolina.
1957-73 Professor of sociology, University of Minnesota [Director, Minnesota Family Study Center 1957-64, 1966-8].
1973- Regents' Professor of family sociology, University of Minnesota, and Director, Family Theory Project, Minnesota Family Study Center.
ISA participation, main roles
Chair, RC on Family, 1960-70.
Member, Programme Committee, and Chair, Finance Committee, 1966-70.
President, 1970-74.
Member, EC, 1974-8.
Participation in other settings
American Sociological Association (Council member, 1957-63; co-chair, Committee on Liaison with the Soviet Sociological Association 1965-7; defeated candidate for presidency, 1977.)
International Social Science Council, EC member 1977-80
Midwest Sociological Society (Vice-President, 1948-9)
National Council on Family Relations (member, Board of Directors, several terms from 1940;
Secretary, National Committee on Research, 1944-51)[1]
Family Service Association of America (member, National Research Committee, 1957 - , Board of Directors 1963-72).[2]
International Union of Family Organisations, Scientific Commission on the Family, member of Steering Committee 1966-72.
Behavioral Science Division, National Academy of Sciences, Committee on International Relations, 1967-72.
Intellectual and ISA career
His father was a chemist, and he was expected to follow in his footsteps, but he was converted from chemistry to sociology by seeing the rise of Nazism in Germany when he was there working with an academic colleague of his father's. He had picked up German and French during his missionary duty in Europe. He became a specialist on the family somewhat accidentally, getting drawn in initially in response to Wisconsin student demand in the context of the provision of lectures on 'marriage preparation'. (The Mormon emphasis on the family must surely have supported this direction of work.) As a result he was asked to produce something in the area for the education programme for GIs; that course proposal was rejected because it mentioned sex and birth control, but it was eventually published as a college textbook (Duvall and Hill 1945), which had great success – earning enough, through a number of editions, to put his children through college (Marion Hill: 1998). Burr (1986: 225) gives an overall picture of his contributions to the field of family research:
'His numerous and innovative contributions include developing a model to study family crises, conducting theory-based field experiments, organising the first bibliographic storage system in the field, developing the methodology to study three generations of families simultaneously, initiating graduate traineeships in the family field, helping to develop the family development conceptual framework, developing methods to improve theory, dramatically improving theory, and helping to establish the Theory and Method workshops that are held in conjunction with the annual meetings of the National Council on Family Relations'.
As the (selective) list above of institutional affiliations shows, for Hill 'family' was an applied and policy-oriented field as much as a theoretical academic one, and he took on many practical roles. Burr summarises his approach thus:
'the family field… should be built on defensible theoretical grounds and conceptual frameworks, and stringent criteria should be used in evaluating rational and empirical evidence. The field should also include the twin features of discovery and application, for neither of these can prosper without the other.'
Hill's first ISA meeting was the 1956 Amsterdam congress. René König, who was chair of its Programme Committee, made a tour of US Sociology departments, and invited him to give a paper. This made a good enough impression on König and Tom Bottomore (then editor of Current Sociology) for him to be asked to do a Current Sociology trend report on work on the family. One was produced of impressive scope and thoroughness (Hill 1958), drawing on material he had collected from a number of countries on his way to Amsterdam.[3]
That made him very visible, so he was asked to chair the family section at the 1959 Congress at Stresa, and there a successful petition for a family Research Committee was made. This took over the Köln-based UNESCO Institute of Social Sciences' International Seminar on Family Research that Nels Anderson, head of the Institute, had started. (König, a member of the Köln department of sociology, had chaired its first meeting, and became Treasurer of the new RC.) This became extremely active and successful, holding a large number of meetings. These were run on carefully developed principles, expounded in an intimidatingly detailed document on every aspect of 'The organisation of a seminar'.[4] The initial statement of principles includes 'To provide a training experience for sociologists and social psychologists at the outset of their career as researchers... enriched by a setting that leads to informal exchanges of ideas, and to setting up tutorial relations between experienced and beginning researchers', and 'To act as a stimulus to the development of family sociology in universities and research institutes.'
The evangelistic orientation took the message well beyond the usual ISA networks with, for instance, a seminar in Iran, and one in Japan which was the first ISA activity in that part of the world. This was building cadres, not just providing another opportunity for established people to give papers, though some publications resulted[5]. Hill's experience of running 22-nation research funded by the Ford Foundation meant that he had very good contacts and knowledge of what was going on, which helped. Klein (1986: 226) adds that during his career Hill had visited and taught in more than 40 countries abroad.
It was not only through those activities that Hill became closely integrated into ISA networks, though they helped. (Members of the Family RC included not just König (Vice-President 1959-62, President 1962-6), but also Leopold Rosenmayr (EC 1966-74) and Pierre de Bie (Executive Secretary 1959-62, and before that a member in 1948-50 of UNESCO's Social Science Department). But for 1966-70 Hill became an unofficial member of the EC as de facto alternate for Bendix, who was Vice President but not very well and sometimes could not make the meetings, and so he ended up attending around two thirds of them, and being a member of the Programme and Finance committees (Hill 1980: 23-4).
At the 1970 Varna Congress it had been planned to nominate Stein Rokkan for next President, but at the last minute he was ruled out because he was elected as President of the International Political Science Association. Another candidate had to be found at very short notice, and it was Hill; he was the choice of Szczepanski, the retiring president, and supported by Eastern Europeans and the 3rd World countries he had visited rather than the Americans, who backed Lipset. He defeated Lipset, and the other candidate den Hollander, by a large majority. His wife, who was there, reported that his election was greeted with applauding cries from the audience of 'Hillski! Hillski!' (Marion Hill 1998).
References, other sources of information, related work
Burr, Wesley R. (1986) [no title – under 'To Do Our Best: Souvenirs of Reuben Hill'], Journal of Marriage and the Family 48: 224-5.
Evelyn Millis Duvall and Reuben Hill (1945) When You Marry.
Hill, Marion (1998) Conversation with Platt.
Hill, Reuben (1958) 'Sociology of Marriage and Family Behaviour', Current Sociology 7.1.
Hill, Reuben (1966) 'Contemporary developments in family theory', Journal of Marriage and the Family 28.1: 10-28.
Hill, Reuben (1969) 'Une perspective mondiale des études sociologiques sur la fécondité humaine', Revue du Centre d'Études et de Recherche Sociale de l'Université de Tunis, pp. 21-57.
Hill, Reuben (1971) 'Modern systems theory and the family: a confrontation', Social Science Information 10.5: 7-26.
Hill, Reuben (1980) Interview with Kurt Jonassohn.[6]
Hill, Reuben (1981) 'Die "International Sociological Association" und die Fortschritte der Weltsoziologie", pp. 414-425 in ed. H. von Alemann and H. P. Thurn, Soziologie in Weltb?rgerliche Absicht: Festschrift f?r René König zum 75. Geburtstag, Westdeutscher Verlag.
Hill, Reuben and René König eds. (1970) Families in East and West: Socialization and Kinship Ties.
Jewson, Ruth (1980) 'The National Council on Family Relations: Decade of the seventies', Journal of Marriage and the Family 42: 1017-1028.
Klein, David M. 1986) [no title – under 'To Do Our Best: Souvenirs o f Reuben Hill'], Journal of Marriage and the Family 48: 225-6.
Presidential address
None given.
---
[1] This body (NCFR), '...founded in 1938, provides an educational forum for family researchers, educators, and practitioners to share in the development and dissemination of knowledge about families and family relationships, establishes professional standards, and works to promote family well-being.' NCFR) 'sponsors the only national program to certify family life educators. The Certified Family Life Educator (CFLE) program encourages applications from all professionals with course work and experience in family life education including formal teaching, community education, curriculum and resource development, health care, military family support, counselling, and ministry.'
[2] This was '...formed as an independent national organisation in 1911. Representing the effort to promote and coordinate the charity organization movement. The association's constituency consisted of agencies with a focus on casework, counsel T. K. Oommen has, and had before his active role in the ISA, an impressive range of publications, on a range of significant social issues and theoretical topics. The distribution of their appearance exemplifies a pattern which illustrates the structuring of the sociological literature more broadly. They have all been in English, though their empirical focus has usually been on Indian data; most of his books have been published in India, but often by the Indian branches of prestigious western publishers such as Sage, Macmillan and Oxford University Press. His articles have been very widely spread, divided between Indian journals such as the Sociological Bulletin or Economic and Political Weekly and international or specialist ones ling, and other social services to families. These agencies were primarily voluntary sector, but included government agencies as well.'
[3] In order to do this he had made creative use of the ISA's expenses grant, travelling steerage to Europe by boat instead of flying so that money was left over to cover his costs, and interviewing family researchers in French, German and Spanish. (Jonassohn 1980; 22).
[4] Reuben Hill papers, box 17, ISA Committee on Family Research, Reuben Hill papers, 1938-1985, University of Minnesota Archives.
[5] See, for example, Hill and König 1970.
[6] Thanks to Kurt Jonassohn for passing his interviews on.